Coker Exhibition Systems Ltd are suppliers and manufacturers of Exhibition display furniture, we have been producing advertising graphics since 1983 when we started in the photographic printing industry.Today we import and export exhibition furniture throughout Europe.
Some of our products are exclusive and all of our furniture is offered with digitally produced graphics or branding. We offer fold down counters and plinths for easy transportation and storage. Our products are manufactured in cost-effective folding polythene through to precision aluminium alloy framed construction. Whatever your budget its unlikely there is not a product to suit your needs very well. The products are designed and offered with budget and quality at the forefront but, always with durability, easy of assembly and compact when stored and for transport.Please select your choice from the filtered sections above.Furniture orders can be made at the same time the graphics are being designed and printed, we slot new orders into our production facility as soon as they are invoiced and our general production time is 5 working days.
Designed for maximum impact and minimum fuss. Most of our exhibition furniture pieces come with fully customisable graphic panel options and fold down or portable forms. The counters, stands and plinths are lightweight, and practical making each piece easy to transport and assemble upon arrival.
Graphic branding is included with the Graphique range of counters and flat panel plinths. Fold flat plinths along with our other display counters and exhibition furniture can be branded as an option. We can help with the creation of your graphics, so please call us on 01256 768178 if you would like to discuss your exhibition display furniture requirements and receive a quote.
You can add an ipad or samsung tablet mount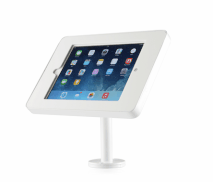 For more information on the range of products available at Coker Expo, please call us on 01256 768178.